The word bodycon is enough to get me reaching for my holding-in knickers and rushing to join the nearest gym. Why are many of the nice dresses out there so tight?? I guess they provide a motivation to lose a few pounds, which I've been meaning to do anyway. Only working 2 days a week means I find myself sitting on my bum for a lot of the day and I've become pretty lazy!
But here we are, these are some of my favourite bodycon dresses:
Halle Bodycon Bandage Dress. Missguided, £29.99
http://www.missguided.co.uk/halle-bodycon-bandage-dress-2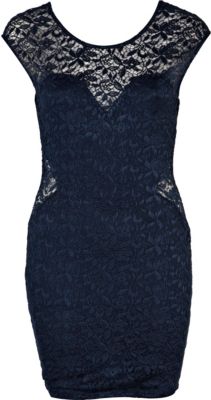 Navy Lace Bodycon Dress. River Island, £32
http://www.riverisland.com/Online/women/dresses/bodycon-dresses/navy-lace-bodycon-dress-612119
Sherry Dress in Charcoal, Black and Grey. Motel Rocks, £42
http://www.motelrocks.com/shop/products/Motel-Sherry-Dress-in-Charcoal%2C-Black-and-Grey.html
Pixie Sequin Flame Mesh Dress. Lipsy, £65. Pixie's range at Lipsy is great, I really recommend it for party pieces like this one.
http://www.lipsy.co.uk/store/pixie/pixie-sequin-flame-mesh-dress/product-is-JD00731_011
House of Dereon Lace Top Mini Dress. Lipsy, £75
From Beyonce's clothing range, this LBD is simple but the lace detail provides edginess.
http://www.lipsy.co.uk/store/house-of-dereon/house-of-dereon-lace-top-mini-dress/product-is-TP01971_011
Find more of her collection at Selfridges:
http://www.selfridges.com/en/Womenswear/?brandname=HOUSE+OF+DEREON&ic=19516&ppp=min&cm_mmc=PPC-_-Google-_-na-_-house%20of%20dereon&_$ja=kw:house+of+de
At £19.99 this dress is a steal. Get yours now from H&M!
http://www.hm.com/gb/product/95500?article=95500-C
Rosie Ruched Side Bodycon Long Sleeve Dress. Boohoo.com £20
http://www.boohoo.com/restofworld/clothing/dresses/icat/dresses/new-in/rosie-ruched-side-bodycon-long-sleeve-dress/invt/azz70631
Getting a bit carried away now, but there are so many to choose from. Basically if you're looking for lower priced dresses try missguided.com- I've ordered a couple of times from here and the dresses are pretty good. H&M is always a winner too.
For those of you looking for something more special, Lipsy is great for party dresses and ASOS has loads of different brands and styles.
Happy shopping!
x